Planters on Griffith Avenue
Following an enquiry by All Hallows Area Association to Dublin City Council regarding the new planters installed on Griffith Avenue, we received the following response which we'd like to bring to the attention of our members.


RBA Architects developed two proposals for planters on Griffith Avenue, one formed using corten steel and the other formed using concrete. DCC made considerable efforts in developing these designs but ultimately both had to be discounted for safety reasons. Objects placed on a live carriageway must be passively safe( ie they must be designed to yield under impact). This is especially important on roads like Griffith Avenue with a 50 kph speed limit. Based on previous road safety audits it was considered that corten steel or concrete planters placed on a road with a 50kph speed limit would not pass a road safety audit.
The planters on Griffith Avenue are required to highlight the presence of floating parking bays at intervals along the road. DCC has now installed Zebra Planters which have been specially designed for use on carriageways. DCC have used them to protect cycle lanes in a number of high profile places like Nassau Street and Parnell Square East and they have proven very effective. They have been planted with 'Libertia grandiflora' which are an evergreen hardly plant that require minimum maintenance and watering. We are in the process of setting up a maintenance contract for planters across the city and the planters on Griffith Avenue will be included in this contract.
Installing the planters has greatly improved the visibility of the parking bays while also allowing DCC to reduce the number of amber deflector bollards on the road. Once the planting becomes established the visual impact will be improved considerably. I have attached a photograph below of what the planters look like now and an example of what they should look like once they become established.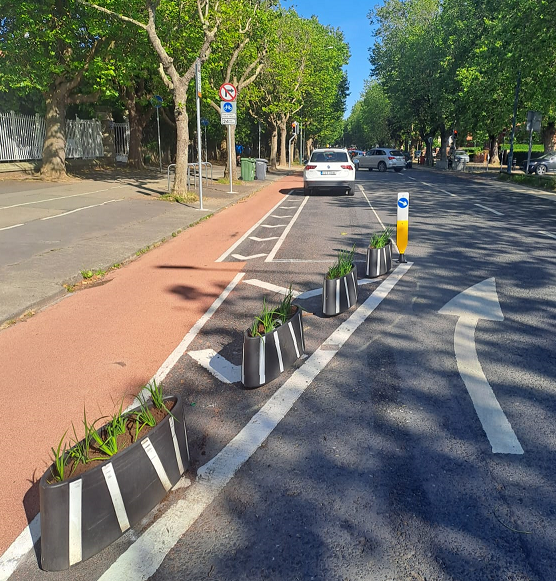 Current Arrangement on Griffith Avenue outside Marino Church.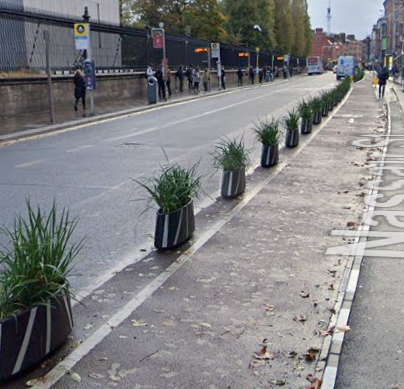 Nassau Street with mature planting.